We offer a high quality service for independent garages and private customers.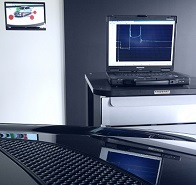 But also frustrated garage customers can enlist our service.

In contrast to the car manufacturers our diagnostics philosophy is not only based on a guided diagnostic process, we also pursue the idea of "logical diagnostics" by oscilloscope.

Thus we are able to rise the findings quality tremendously and as a result, unnecessary changing of components can be avoided.


Nr.

Diagnostics in detail

Price

1

Debugging ("Could you have a quick look, please?")


35,00 €

2

Reading out error memory, active-value-diagnostics, differential diagnostics, corrective proposal


75,00 €

3

Reading out error memory, active-value-diagnostics, differential diagnostics, cybernetic analysis, measurement of sensors and actuating elements, CAN analysis, line set check-up, definition of error cause


175,00 €

4

as nr. 3, but with mechanical diagnostics


250,00 €

5

as nr. 4 including micro electronics (control box)


325,00 €

6

hourly rate (general electronic operations)


95,00 €

7

hourly rate laboratory

150,00 €
All prices plus VAT

Up to km

Price

Up to km

Price

5

0,00 €

60

79,80 €

10

13,30 €

70

93,10 €

20

26,60 €

80

106,40 €

30

39,90 €

90

119,70 €

40

53,20 €

100

133,00 €

50

66,50 €

All prices plus VAT