Malfunctions of the control box may cause high costs.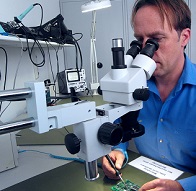 For the replacement of a control box some car producers charge up to 2000 Euro. In many cases control units can be repaired for a reasonable expenditure.

Malfunctions of the control box are very often subsequent damages. For this reason an assistance with diagnostics is a matter of course.

Diagnostics as well as repairing are carried out in an electronical laboratory. Our electronical equipment is adapted on actual standards and requirements.

There are brazing stations and hot air soldering stations, multi-programmers, microcontroller programmers, CAN-bus-analyzers, flex-ray and lin-bus analyzers, analogue and memory scopes.

We repair electronics of all manufacturers as Mercedes Benz, BMW, VW-Group, Renault, Peugeot ...