Since a lot of years Becker Systems has been active in the field of car electronics with the demand to offer high quality diagnostics and professional repair of electronic and electric parts.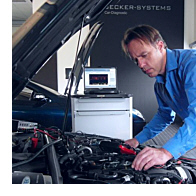 Our work is based on well-founded training and decades of experience in car diagnostics.

Our technical equipment is an assortment of OEM-diagnosis-units and multi-brand-devices as well as special measuring tool – too many to list them in particular.

We hope you will enjoy browsing our site! Please do not hesitate to contact us if you have any further queries.