Training for high voltage technican
Training course to the expert on high-voltage intrinsically safe vehicles successfully completed. This has enabled us to gain the necessary authorization and expertise to shut down the high-voltage system, according to the manufacturer's instructions, into all elektric and hybrid vehicles drive in order to carry out the required work on the vehicles.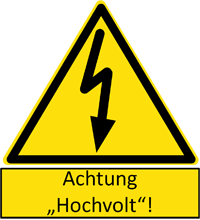 This is necessary in order not to come into contact with high voltage voltages. Electric and hybrid vehicles operate with voltages between 200-600 volts
Access service system ODIS for AUDI and VW


Enabling for access to the original diagnostic system ODIS incl. GeKo and SVM system. Thus, we are also able to carry out all work such as software update, coding and control unit commissioning as well as disconnection component protection.



Access service system for BMW and MINI

Now also BMW / MINI: diagnosis, software updates and coding with the original diagnosis system Ista / D and Ista / P including access to the central computer to Munich in our house possible. Innovative diagnostic and programming technologies allow us, now and in the future, to qualify the latest series of models, to provide them with professionalism and to check the manufacturer's level of testing depth.



XENTRY / Star Diagnostic Access

We offer the qualified service of your Mercedes-Benz diagnosis with the powerful original diagnostic device XENTRY / Star Diagnosis.

The system is equipped with an online server connection from Koblenz to Stuttgart with data to the software update, SCN coding and various learning functions. Only in this way can a service with Mercedes-Benz quality requirements be achieved in the meantime and in the future.


Almost like music to Lulo's ears ...


Broken control unit:



Lulo Reinhardt's

car ar no longer sounded as harmonious as his guitar and the beautiful sounds emerging from it – a mixture of jazz, flamenco and latin.

After a successful control unit repair the sound of his motor is now like music to his ears again.

www.lulo-reinhardt-project.de
Due to the numerous enquiries on our interior design here is the link to the creative head, interior architect and friend, Ralf Becker:

www.becker-innenarchitektur.de
Enjoy the beautiful interior views
and catch up on
his several
projects.

We would like to take this opportunity to thank him again for his excellent work!
Muscle tension meets electrical tension!


Four-time bodybuilding world champion:

Thomas Scheu




visiting BECKER-SYSTEMS



Even in terms of mobility Thomas Scheu relies on musclemen.

The recovery of electrical tension however was much easier than building muscle tension."

www.thomasscheu.de
Diagnosis experts from all over Germany met in Winningen


Just one week after the new head office`s opening the diagnosis centre of "Becker Systems" in Winningen became the meeting point for the FCD diagnosis team Germany.

The new building, which not only impresses by its architecture but also by its technical equipment, was a dignified place for the sharing of know-how and experiences.

According to the technical facilities and the participants` knowledge, the training topics were on a very high level. The diagnosis training SD FSi was conducted by the distinguished expert for oscillography and head of FCD Libor Fleischhans.
Lots of customers, associate partners and friends accepted the invitation to the opening of our new head office to visit our new premises and to check out the numerous innovative diagnosis facilities – and to celebrate with a drink and a snack.
We've set the course for the future

The new head office is essential for an appropriate and effective handling of ultramodern car electronics. The consolidation of laboratory and workshop allows to offer an even better and faster troubleshooting. Moreover, the former locations stay the same: All diagnosis bases in Urmitz (TRW Helmer GmbH) and Winningen (KFZ Michael Müller) remain unchanged.
October 2010:
Interior finish workshop

September 2010:
Paving and plastering

September 2010:
Interior finish office

August 2010:
Interior finish

August 2010:
Roof work

July 2010:
Walling of the office

July 2010:
Tiling

June 2010:
Walling of office and hall

June 2010:
Cladding of the external walls

June 2010:
Embedding of the car lift, office

May 2010:
Assembly of the hall

April 2010:
Brickwork and foundation

April 2010:
Foundation and groundslab

March 2010:
Starting the excavation
Both support bases in Urmitz (TRW Helmer GmbH ) and in Winningen (KFZ Michael Müller) are maintained.

The haedquarter's completion is expected in July or August 2010. We will keep you informed of the its progress!

Please drop by occasionally!